Taken from our 50 Tips book, here are 7 effective ways to promote your book.
1. Newsletter swaps
Firstly this method requires you to either have an email list. You should get started building one if you haven't already.
To organise email swaps, you can go to a platform like StoryOrigin, BookFunnel or approach other authors that write in your genre and make an arrangement via Facebook Groups. SPF and 20booksto50k are good places to connect with indie authors, but please adhere to their rules.
2. Booksweeps
Booksweeps is an excellent service for building an audience with a range of author promotion services.
List building promos enable you to build a dedicated list of fans by throwing in an ebook or paperback into a prize draw. This is probably one of the most effective ways to start or add to your email list.
Their other services include:
Email Blasts: engage directly with their 100k+ readers.
Follower Promos to gain followers on social media.
Author Highlight: Promote your reader magnet
Freebie Feature: Direct readers to your lead magnet page
and more coming.
Online Ads
Pay-per-click advertising (or pay-per-impressions) is an excellent way to get quick traffic to your books if you have a budget. Here are the leading platforms that authors are using to build their email lists or promote books.
Bookbub
Bookbub offers a Pay per click ad service in addition to their main featured deals promos that can be expensive. With their Ads offering, you can target your ads by authors/genres/reading devices through the Bookbub email lists. You can choose to pay-per-click or pay for impressions (the amount of times you ad is seen). There is a dashboard with stats for impressions and clicks, and it's worth pointing out that their platform is probably the easiest to understand if you're a newbie.
Facebook Ads
Facebook allows you to set up advertising campaigns and narrowly target potential readers by age, location, interest and much more. That means you can potentially target fans of Stephen King for your horror books, for example. Be sure to split-test campaigns to see which ones work best and cap the spend, or else you could run up a hefty bill very quickly. You can typically limit each campaign to a modest $5 or $10 a day.
Click here for more info from Facebook.
Amazon Ads
If you sell ebooks or paperbacks on Amazon, you can promote directly onto Amazon via their promotions link next to your book details in the KDP dashboard. Use Publisher Rocket to source keywords
Amazon ads are available within your KDP account
Google Adwords allows you to display ads based on user keyword searches. For your niche or genre. It would help if you split test adverts with slight variations on the headlines and descriptions, and Google will automatically choose the best performing ad according to click-through rate.
This is a tricky one to master, and it's also easy to overspend if you're not careful but a viable traffic generator.
If you want to master Book Ads take a look at our Ads for Authors Review.
4. Pinterest
Pinterest is a growing platform for images and videos, with 478 million monthly active users as of 2021.
Here are some ideas for using Pinterest for audience reach.
You can ask your readers to send in photos of them holding your book. Pin it on Pinterest!
Another idea is to create quotes from your book or related tips for posting onto Pinterest.
Authors have also created boards on Pinterest for clothes that their characters wear or inspiration for their book's setting, even character's music playlists. Your imagination is the only limit.
Publishers can use genre themed boards, quotes using Canva, relevant book suggestions, discount alerts, excerpts from books and sneak peeks.
5. Video trailers
Increasingly popular, video trailers are a nice way of getting through to a visually orientated generation through social media. You can also use the video in Facebook ads.
The costs of getting one made can vary and be on the high side, but you can always check out Fiverr or Upwork for cheap options as well as Googling. Another option might be connecting with a student studying video who might want to boost their portfolio.
If you're feeling super confident, you could do it yourself. Video footage can be purchased on image library sites, and there are free and low-cost video editing options out there.
You can easily create promo videos at: https://slide.ly/promo
Also, check out these resources: Doodly. With their pre-made doodle video clips, you can quickly make a simple video that shows people and scenes that might go with your story. Another tool is VideoStudio.
6. Make your book easy to buy
I have seen some author websites that make buying their books hard work by hiding the links or making the user click multiple times to get to the order page. Nothing crushes conversions like this. Make each book have clear links ideally with logos of each retailer such as Amazon, Apple Books, Nook and so forth.
You could also check out universal links like books2read run by the same guys at Draft2Digital, where you can get one link for all the retailers. If you publish on Amazon, then universal link services like Genius Link and Relinks redirect readers in different global locations to the relevant store.
7. Networking – online and off.
If you're serious about pushing your author life create a LinkedIn profile focused on you as an author. LinkedIn is a more business focused platform and makes a good platform for connecting with other authors and professionals in the publishing world as well as related industries.
Although it is unclear how live events will shape up in the light of Covid lockdowns, it's well worth a look into networking events for some offline networking. There are still many book publishing events and writer conferences where you can connect and get the word out about your books, even if they are on Zoom.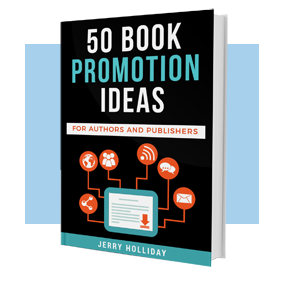 Want more Marketing Ideas?
You can grab 50 Book Promotion Ideas from major ebook platforms or get it FREE when you sign up to our Indie Publishing Roadmap eCourse.