Revolutionizing How Indie Authors and Publishers Market on Amazon
It's hard to believe there was a time when authors struggled to have their work published. Thanks to Amazon, Kindle, and other online platforms, it's easier than ever for independent authors to self-publish their books, making them available to readers globally. Now, with the recent announcement of Amazon A+ Content, KDP authors have even more control of their Amazon book pages and their overall sales.
What is Amazon A+ Content Anyway?
According to Amazon seller central, the A+ content feature allows authors and brands to enhance their product pages and descriptions with various types of content. In the past, Amazon book pages were limited to a text-only "Product Description" section, often used for critic reviews, a synopsis, or a text excerpt – located below the selling format options. At that time, authors were restricted on formatting options including text length, which often hindered reader engagement and potential sales.
Amazon A+ Content provides a whole new area for authors to utilize custom text, images, and formatting for book marketing – and now it's available to all KDP authors, not just a select few!
Where Is This Content Displayed?
On the viewers' end, Amazon A+ content can be seen as you scroll down past a carousel or two of "Products related to this item." A+ content is displayed in the "From the Publisher" section, which can also include an enhanced "Product description" area beneath that if desired. The exact location on the page may differ slightly between sellers, but generally, Amazon A+ content is shown just before the "Product Details" section at the bottom of the page.
How Indie Authors Can Use Amazon A+ Content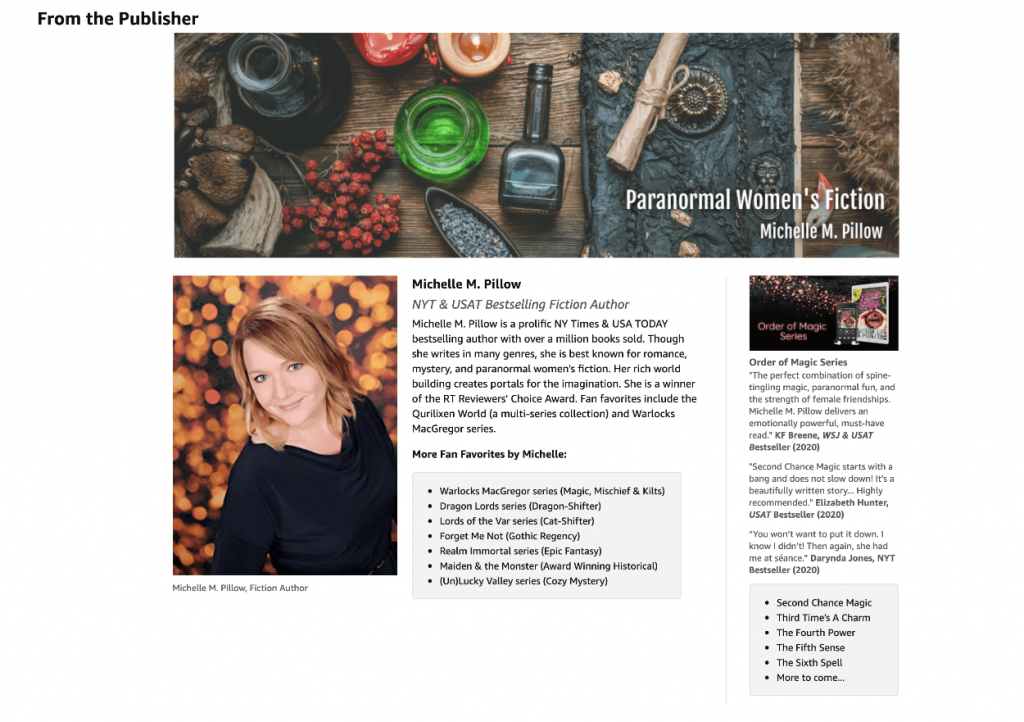 A+ content allows sellers to market their work using different types of content including custom images, charts, or unique layouts and formatting to enhance the branding of their page. Ultimately, the goal for any author is to sell as many copies of their book as possible. A+ content offers indie authors the unique opportunity to provide more detail, capture the essence of their series with images, or share beautifully formatted critic reviews – the possibilities are endless.
There are many ways to utilize the sections of A+ content, and authors have definitely taken advantage of making the space their own. Many authors choose to utilize the space to tell more about themselves, expand on their other fan favourites, or provide more detail on the book itself, like Lynda McDaniel did here on her books page. Whereas other authors like Kristin Hannah and Stephen King himself, have implemented large, captivating images with stunning reviews.
The Advantages for Authors
Amazon A+ content provides free book marketing for Kindle Direct Publishing authors –essentially, it's their own dedicated advertisement section. In addition to having full creative control over the images, text, and formatting authors benefit in many other ways.
A+ content provides an excellent opportunity for authors to utilize search engine optimization. High-quality content and SEO techniques incorporated into an Amazon book page, such as keyword placement, helps increase a titles' searchability.
Many authors use this section as an opportunity to share a bit about themselves, their life experiences, and other pieces they've written. Depending on the topic and genre of the book, an image of the author can really build credibility.
Hooking readers in as they scroll through the book page is critical for making a sale. Striking images, infographics, or special details like timelines for an intricate plot series are all creative ways to utilize A+ content for customer engagement.
Purchasing a book online based on limited information doesn't always work out as planned. The more details authors provide about their book, the less likely customers will suffer buyers' remorse – this also helps avoid dreaded returns.
Encourage Positive Reviews
Avid readers and online shoppers like to share their experiences when purchases meet their expectations. When they're happy about their purchases, they're more inclined to leave positive reviews.
That's the main goal, right? All in all, the more connected authors are to their audience, the more likely browsers become buyers. A+ content can help encourage first-time customers to become devoted repeat buyers and lifetime fans.
Encourage Loyal Readership with Amazon A+ Content
There's a little more to selling books online than marketing. Developing a connection with their audience helps indie authors develop loyalty and encourages readers to venture onto new titles. The goal isn't to sell one book to one customer, after all, it's to have them come back for the 2nd, 3rd, and 4th instalment – and so on.
Further Resources
To read more on Amazon A+ Content on KDP click here
Here is a detailed guide to setting up your own Amazon A+ content on Written Word Media