The Reedsy platform offers an exciting ecosystem for authors to help craft beautiful books. There are two main focal points: the first is the editor and the second is the marketplace. Both are offered in a slick user-friendly interface that makes it easy to find editors, proofreaders, cover designers, ghostwriters and marketers to help you with your book production. The editor allows you to import your finished manuscript and export it for digital and print.
Beyond that, there is an extensive blog, learning section as well as apps and tools.
The marketplace: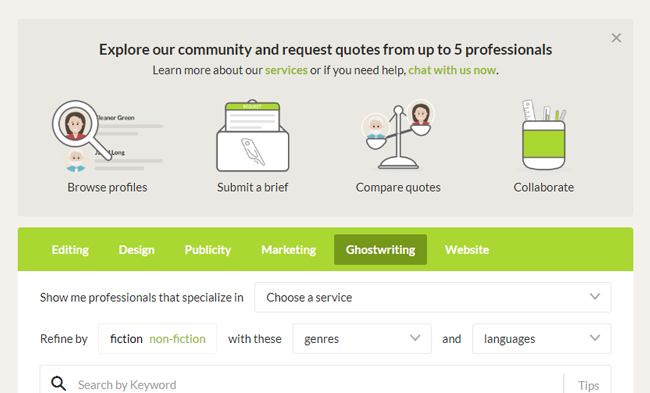 There are a selected 'curated' group of freelancers available that Reedsy, according to the 'About' page, "only work with editors, designers, marketers, and ghostwriters who have experience crafting books that land on the New York Times bestseller list."
The impressive CV's are evident to see. When hunting down your collaborators you search and save the ones that resonate with you the most for future viewing. There is also a starred review system in place and freelancers are required to link to projects they've worked on.
Click on the sections you require and you'll get an option to filter down the services you're looking for.
Editing: copy editing, developmental editing, editorial assessment, indexing, proofreading, query letter review.
Design: Book interior design, cover design, illustration, production management, typography
Publicity: blog tour and press coverage
Marketing: advertising, email marketing, marketing strategy and metadata and blurb optimization
Ghostwriting: Book ghostwriting, Book proposal and Short-Form Content and finally, Website Design.
For each speciality, you can refine your search by fiction/non-fiction and filter by genres
We used the service for finding an editor and asked for five quotes. You can message each freelancer to ask questions through the internal communication system and when you're ready, award the work.
Reedsy charges a 10% service fee for each project through the marketplace.
Overall, ours was a smooth experience and we'll definitely use again.
The Reedsy Editor: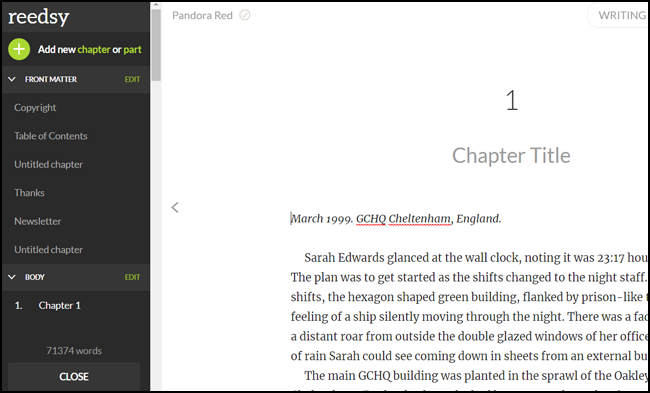 Create a book and either import and paste in your chapters and sections. Drag and move around chapters, add front and back matter. Overall it's simple to use and you can assign a small selection of template or theme styles for your book. When you go to export you get the ability to drop chapter numbers, use drop caps, show endnotes.
Book settings:
Add your title, sub-title, edition, author name, description, ISBN, and other basic information. There's an image upload for the book imprint and the cover.
Overall the editor is impressive with no cost to get digital epub and Mobi files as well as print book PDFs. This is a massive plus that could potentially save a large chunk of change in formatting costs.
I do love the interface and service all round. It's not perfect yet but I'm confident that after a few updates it will get there.
Reedsy Discovery
When you have a book to promote, Reedsy Discovery allows you to submit your book to reviewers for $50 and get exposure to thousands of genre readers. Well received books get a chance to be featured in the Reedsy newsletter.
I haven't personally used Discovery yet but will be on my next book release, and will update this article with my experience. Of course, it goes without saying that every book will have a different reviewer reaction.
Reedsy Blog and Learning
Another addition to the Reedsy platform is an excellent blog on all aspects of publishing and writing that will an avid learner busy for days. Part of the blog section has a myriad of 10-day email courses covering aspects of the writing craft, editing, design, marketing, and publishing. You'd be hard-pressed not to find something of interest here.
Tools and Resources
Another great section on the platform is the Tools tab that has a Rolodex of resources from independent publishers, book promo sites, writing exercises and contests, plot and pen name generators to get the ideas flowing and a lot more.
All in all, Reedsy has to be one of the best platforms for writers and publishers out there and well worth your time.
To get a $25 credit for services through the platform you can use this link. Be advised that we also get a credit which is a big win-win all round,