Are you looking for a great editing tool for Mac computers? Any writer looking to publish ebooks or print editions needs a quality tool to not only polish their work but also measure up to high publishing standards. Your work may be quality, informative, or uniquely creative, but it needs to be presented in a way that conforms with general Kindle publishing standards.
Vellum is considered to be a go-to editing software option many published writers commit to and have invested in. So, there must be a lot of value in this product. If you haven't yet tried Vellum and are thinking about giving it a go, keep reading!
What Is the Vellum Editor Tool: A 2021 Review
As a self-publishing author, you have several possibilities when getting your book out there.
Work with professionals. Depending on the complexity of your demands, handing over your manuscript to professional editors and designers might cost as little as a couple of hundred dollars or even multiple thousands. The downside is you're in charge of choosing the contractor, conditioned by their deadline adherence, and in charge of intervening in case the collaboration doesn't go as planned.
Quite a bit of investment if there's no guarantee of seeing a return on investment, don't you think?
On the other hand, there are also online editing tools. You can use them on your own, and purchase premium packages at price points lower than $200. But, here, you depend on individual traits of different software tools to do proper editing and formatting.
You might think the quality of your work speaks for itself, but you might be surprised how nit-picky readers can be over a few typos and only slight inconsistencies in formatting. So, how do you make your choice?
There are many popular editing tools out there, like Calibre and Adobe. While Calibre's possibilities are broad, it's not the most beginner-friendly. This tool is mainly used by programmers, so unless you've got decent programming skills, you may find this software option too demanding to use.
There is also Adobe InDesign, one of the apps that let you design your own covers, but this takes some training to master and use.
Vellum, on the other hand, is a self-publishing tool with great editing and formatting possibilities. But, so are many other software tools available at different price points, and some are even available for free.
So, what makes Vellum different? Why is it so popular?
If you ever used any online editing software, you know that the devil often lies in the detail. Most online editing tools provide basic editing and proofreading features. Vellum has all of these features, plus a couple more that make it invaluable.
It becomes clear that, if you're an aspiring writer looking to edit, format, and design their own book, you indeed need a user-friendly software tool like Vellum that offers both ebook and print formatting. This software option is intended primarily for formatting digital and print books.
How to Use Vellum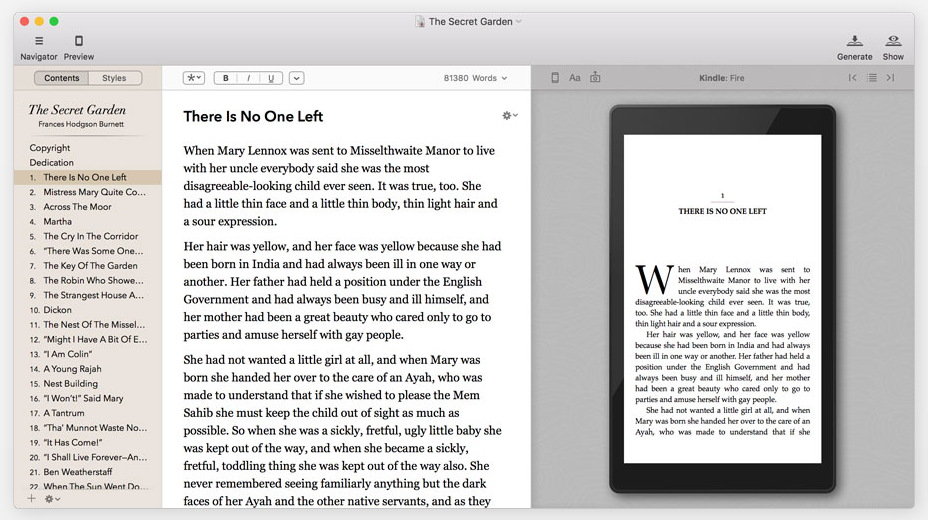 Here's how to use the Vellum editor app:
Step #1: Import Your Word Document
Once you purchase and open the app, a simply-designed opening screen shows you where to import your Word file. Vellum will screen and detect the structure of the document on its own, giving you a list of chapters in the left sidebar (Navigator).
After that, you can use the Navigator and Text Editor to change both the content and style of the writing.
Step #2: Edit in Vellum Editor Tool
The left sidebar points to a new page you can edit, which you'll do in the Text Editor. This editor lets you choose both text and heading styles, the font, alignment, breaks, etc. You can also add links and create references, and you can add images to your manuscript by using options to either upload or drag and drop.
If you click on the title, you will be able to edit the metadata of your manuscript. Here, you can add word styles into the manuscript and edit chapter titles.
You can choose between setting up a style for the entire document, or for the individual chapters, and even by chapter sections. Clicking onto the configuration icon also lets you change chapter types, introduce common elements like an afterword, epilogue, etc.
The top center area of the editor, titled Ebook Cover, allows you to import the book cover into the file, while the 'Styles' panel offers layout templates for different areas of the book. You can add text features like justification, alignment, subheadings, etc. by right-clicking on different text areas.
Step #3: Export the Book
When it comes to exporting the file, Vellum offers various file types (Generic EPUB, Kobo, Google Play, iBooks, Nook, and .mobi) and even different trim sizes for print books.
One of the shortcomings of this software is that it doesn't allow saving customized templates. If you have a certain style you prefer for your books, you will have to set up formatting for each individual book every time you import the Word file. However, if you don't have any particular format and style preferences, but instead like classic formats, then the basic features will be enough.
If you're a full-time writer, and you're looking for a reliable editing tool, these subscriptions will be a worthy investment. If you only publish occasionally (and need more support), you might be better off hiring individual contractors. With Vellum, however, you pay a once-off fee to create as many ebooks as you want.
Vellum Editing and Formatting Q&A
Can Vellum Replace MS Word?
While the software does allow proofreading and editing, it can't fully replace MS Word. Writing a long manuscript needs typo and grammar pointers, and Vellum doesn't offer these features. If you're working on a large book, it would be wise to work on it in Vellum only once the writing is fully proofread and edited.
Can I Proofread My Book in Vellum?
Yes. You can browse the writing and formatting when you import the Word document using the feature called Navigator and make changes in your writing as you read. You can review and edit your document before exporting it using the Preview feature, and then click View and select Two Pages for a more detailed overview.
How Much Does Vellum Cost?
The price of a Vellum subscription, or better said its affordability, really depends on how valuable these features are to you. For creating unlimited ebooks, you'll spend approximately $200, while a subscription for both ebooks and paperback formats costs about $250. Keep in mind that you can download and use the app for free, but you will need a subscription if you want to export and publish your book.
Conclusion
Vellum is a great investment for indie book publishers, who write for a living or those who publish ebooks regularly as a part of their work. Since exporting (to publish) requires a subscription purchase, it may be unwise to pay for Vellum for one-time use only.
The main advantages of the software include an easy, user-friendly design, speed, and ease of navigating through the document, the possibilities to apply changes to the entire and individual parts of the document, the variety of formats for exporting, and the aesthetic appeal of the books.
If you're looking for quick, easy, and precise editing of a larger manuscript or for regular publishing, Vellum will meet your demands.
However, some limitations include scarce text editing and the lack of proofreading features. Vellum will let you make changes to the text, but you're the only one in charge of the content quality. Plus, if you are looking for an ebook editor for Windows, Vellum isn't right for you, but if you own a Mac PC, it is a great option to consider.
Now that you know what to expect with Vellum, the decision of whether or not to purchase is only yours to make!