Your First 10k readers is a comprehensive advanced course by Nick Stephenson to help authors get their first 10k readers, naturally and grow their audience. Many authors gain success through self-publishing their books as proven from the testimonials and results of students of Nick's courses and Mark Dawson's main courses.
There is a lot to unpack inside the member's area (which is in more detail below), but briefly you get access to:
Over 70 videos in total (with audio and PDF versions of each module)
Tools of the Trade
Group Coaching Calls Q and A.
Advanced Training (The interrogations of Mark Dawson, Nick Loper, Bryan Cohen, Joanna Penn and many more.
Six-Figure Swipe file
Plus, access to the Facebook Group.
Who is Nick Stephenson?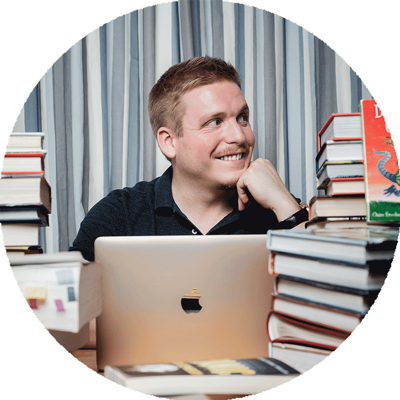 Nick is known as an author for his Leopold Blake thriller series and non-fiction titles on book publishing and marketing. He is also well known in the Indie Publishing world for his courses: Your First 10K Readers, The Author Marketing Machine, and StoryEngines.
Who should invest in Your First 10k Readers Course
Those authors who are looking for cutting-edge advanced training to increase their book sales conversions, build reader lists, launch promotions, and other book marketing tactics will love it.
Who should not invest in First10kreaders?
This isn't suited for novice authors who haven't got to the marketing stage yet. Nor is it about how to publish your book.
There's work to be done if you want to ramp up your marketing efforts, but you'll get a helluva lot of guidance and support. If you think a publisher will do all this for you, put bluntly, you need to re-educate yourself on the current market.
Course content breakdown:
Let's break down the course modules so you can see what you get.
Module 1: Rule the Retailers. This module focuses on effectively setting your book up before publishing it. It covers Amazon's algorithm, Keywords and Categories, compelling book descriptions, awesome book covers, the 'book inside' feature on Amazon, effective pricing strategies and Amazon KDP exclusivity v Broad reach.

Module 2: Drive Endless Traffic. This section looks at the power of free ebooks (permafree), building your dream team, giveaways and contests, merchandising, smart promotion tactics, as well as Amazon and Bookbub Ads. 

Module 3: Convert Traffic into Subscribers. Here you get more advanced, long-term book marketing tactics, including your book funnel, optimizing your website, selling directly from your website, and building your automated email marketing machine.

Module 4: Engage Your Audience. A deep dive into why readers don't buy and how to fix that, writing compelling emails, priming the sale of your books, getting hundreds of reviews and an author's guide to social media.

Module 5: The Ultimate Launch Template. This module looks at your book's launch, including how to build a superfan launch team, building buzz and scarcity, plus a launch and promotion template. 

Module 6: Scaling Up with Facebook Ads. An in depth look at Facebook advertising covering strategy, set-up, creation of ads, scaling, and monitoring, plus a look at Messenger Ads.
As mentioned there is also access to Tools of the Trade resource of videos on web apps such as Publisher Rocket, Kindle Spy, Websites and more.
Group Coaching Calls Q and A. These are five videos from previous calls including guests Mark Dawson and Joanna Penn. You can get direct help and support within the members area as well.
Advanced Training (The interrogations of Mark Dawson, Nick Loper, Bryan Cohen, Joanna Penn and many more.
There's also the Six-Figure Swipe file which is the exact emails Nick uses (that you can use) to build reader relationships, build launch teams, run promotions or ask for reviews.
Plus you get access to the Facebook Group with community and support.
Conclusion:
All in all, we were really impressed with the in depth detail of the course. There's plenty of ninja-like advanced book marketing tactics. Working carefully though and applying to your books will greatly improve your chances of success, although nothing is guaranteed. If you have a good ethic and willing to apply what you learn, First 10k Self Publishing Course is well worth your investment.
If yu want to check out alternatives check out our Best Self Publishing Courses post.