An updated review of Publisher Rocket is here
So, you've written that epic fantasy novel or maybe it's a non-fiction book based on your marketing knowledge, and you're ready to get published. Perhaps, you want to dip a toe into niche publishing and need to make sure there is a market for your planned hydroponics books.
Many writers only become aware of the need to advertise a book just as they hit the publish button which is probably too late. As with any business, it pays to plan ahead. So how do you find what readers are searching for and more importantly, what books are they actually buying?
One of the solutions might be to use the Publisher Rocket, a well-known book marketing and keyword research tool.
Publisher Rocket Features Review 2021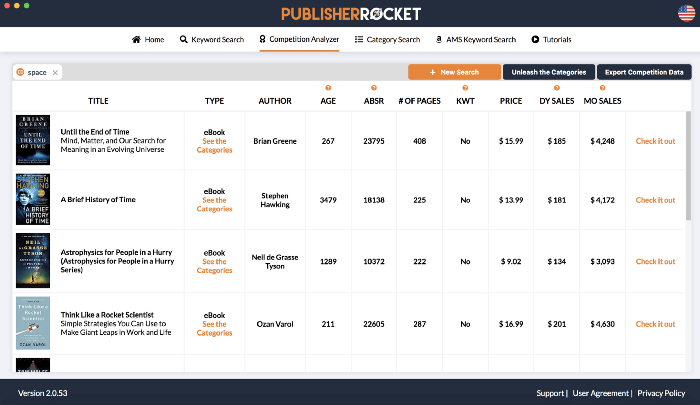 Publisher Rocket is a useful keyword tool for publishers that helps you find profitable keywords as well as ideas to write polished descriptions, titles, and subtitles that can help sell a book. Finding the right phrases and words to present your work to the reader isn't always easy, and Publisher Rocket can be of great help.
Many writers claim that this tool helped them crack Amazon's algorithm and significantly boost their sales. But, is this possible?
One of the amazing features of Publisher Rocket is that it is designed for publishing book(s) on Amazon and tailored around their buyers and how they search for books. This tool researches keywords and behaviours on Amazon, suggesting ways for you to:
● Use the right words and phrases in your listing based on how readers think
● Figure out how the audience chooses to buy books and adjust your entry
● Know how to price your book so it's appealing to the target audience
● How many sales and how much revenue you can expect
● Find the best niches or sub-genres to give your books a competitive edge
And so much more!
For this, Publisher Rocket offers multiple tools, which allow you to perfectly adjust your book to sales demands.
Keyword and Category Searching
For you to set up the right keywords in your title, description, and all other required fields.
A quick side tip: When you publish via Amazon KDP they allow you to input up to seven keywords that place your book into extra categories beyond the two allotted. Here's a great resource with all those categories and keyword matches.
Publisher Rocket will give you a list that contains the number of users that used a keyword, how profitable the keyword is, how many users search it on Google and Amazon monthly, and how competitive will your book be for the targeted keywords.
Ideally, you'll discover highly profitable keywords that have less competition.
As an example, let's take the keyword 'fishing':

At the time of writing, there are nearly 5k competitors (too many), an average monthly earning of $612 (not great) with an estimated 711 searches on Amazon (anything in the hundreds is good). The Competitive score is 51 so that's a good sign. Anything less than 100 means you're in with a chance. 100 means 100 and more, so it might be 500 or a 1000, making it very hard to break into those top pages.
However, click on the orange analyze buttons on the other keyword ideas and you start to build a picture of what else is possible. Is 'Bass Fishing' a better option? Well, it has less competition but there are less than 100 searches and the earnings don't look too good either but this is the process to finding the sweet spot. More often, the highest profitable keywords are often the most competitive. However, Publisher Rocket helps you discover keywords that are relevant to your reader base and profitable, but not too competitive for your book to stand out.
Likewise, choosing the right category and subcategory for your book is an important topic. Genres and subgenres need to match your content. You might feel tempted to place your title somewhere more profitable, but doing so might result in disappointed readers and bad reviews.
Publisher Rocket helps you prevent this by finding categories and subcategories that are both accurate and potentially easier to rank for. It does this by showing you relevant sales statistics for particular categories and subcategories, and more importantly, how your title ranks among them.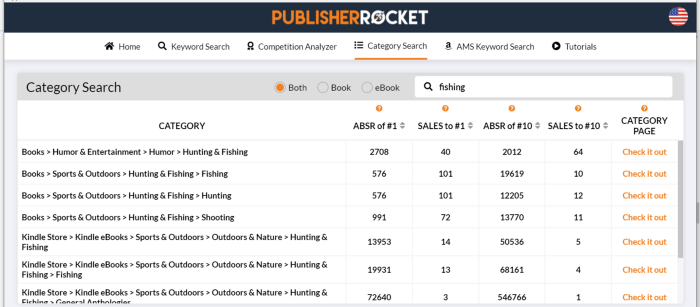 Amazon Ads Keyword Research
This feature helps you find keywords to use for targeting on Amazon's paid advertising program. If you're investing in their ads, you should at least be able to reanalyze relevant data concerning competitive keywords.
Analyze Competition
To assume a reputable rank on Amazon, you'll have to beat competitors in both the number of sales and the level of ratings. You need more sales and better reviews than your top competitors to win, but how to do this?
Publisher Rocket Pros and Cons
Publisher Rocket helps you by pulling out top competitive titles and giving you their statistics, from keywords to searches and sales. This information helps you adjust your listing and pricing to rank well among similar books.
After reviewing the software's basic features, it does appear as if it is invaluable for bookselling. Or is it? Here's a list of Publisher Rocket's pros and cons:
Pros
● Provides very useful marketing data
● Instantly filter profitable keywords for Amazon print and digital books
● Helps you tailor your book and listing to the market
● Helps you level expectations in terms of expenses, sales, and profits
Cons
● Require technical knowledge and understanding of statistics to apply them well
● The data is estimated so be aware of that
● Provides only guidance. The real work is still up to you
● Can be a bit slow and clunky at times
Publisher Rocket FAQ
Does Publisher Rocket Fix Your Book Titles and Amazon Listing?
No, it only gives a thorough statistical report on keyword competitiveness, search habits, and sales projections.
Does Publisher Rocket Guarantee Sales?
No, but is highly likely that following its suggestions will increase your chances for profitable publishing.
Do I Have to Pay For Publisher Rocket?
Yes. Publisher Rocket charges a $97 forever-fee, but it comes with a 30-day free trial. You should have enough time to try it out and make sure it's right for you before having to purchase.
Conclusion
My final verdict on Publisher Rocket is that I recommend it to sales-oriented writers and publishers who highly rely on the marketability of their titles.
If you're willing to put in the time and effort to analyze all of the data regarding keywords, categories, and ranking and take the time to adjust your book for it to be more marketable, then this software is right for you.
Publisher Rocket will definitely demand time and testing. You won't be able to analyze and optimize your book and Amazon listing in your coffee break but, if you want to give your books the best shot at success, it is definitely worth the effort.
Considering that the continuous use of the software requires paying a once-off subscription, I'd say that Publisher Rocket should be a no brainer for any self-publisher, small press or authors looking for an edge with their marketing efforts.
The final decision regarding purchasing and using Publisher Rocket is on you. The software will be useful to boost sales but only if you are willing to take the time and the effort.
Please note: Links are affiliated and I get commission (at no extra cost to you) from any sales. Thank you for your support.